Once again thanks to Pete for giving me my own space for this build. I hope everyone gets at least some enjoyment from my rather chaotic style of modelling.
Well, I picked up the kit during lunch yesterday. Hobby Lobby had it for $249, but I luckily had an coupon from their website that gave me 40% off. Not a bad savings if I do say so myself. It was cheaper on the web (in China), but whenever I can buy locally I always do.
First the real ship, and forgive me if I get some of this a little wrong. The USS Wasp is the first in its class of Marine Corp Assault ship. Over a thousand sailors operate the vessel, which is capable of carrying over 2000 Marines, along with all of their vehicles and equipment. This is after all an Assault ship. It carries a full compliment of Aircraft, from various helicopters, the U.S. version of the Harrier, and most recently the V22 Osprey, pictured below: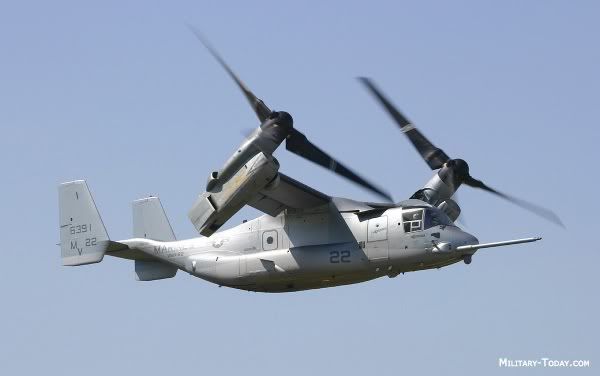 What is so cool about this vessel is the well deck. Almost the entire length of the lower deck of the ship is hollow, accomodating countless vehicles, as well as several types of landing craft. And almost half of this deck can be flooded in order to launch the various landing vessels and amphibious assault vehicles.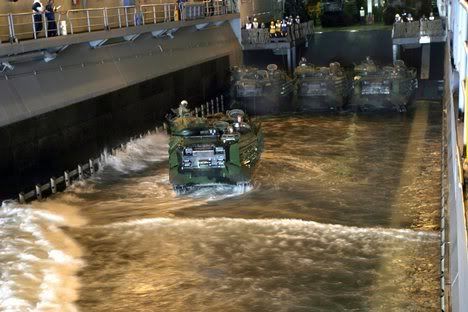 Amphibious vehicles launching from Wasp
The neatest landing craft carried by Wasp is the LCAC. It's a Hovercraft with the capability of carrying loads as heavy as 2 M1 Tanks.
LCAC Launching
Now the kit. Wow! I don't think I've ever seen a kit packaged so well! Parts trees were wrapped in pairs, then neatly stacked in two seperate compartments. All the vehicle trees were in a seperate box of their own. The single piece hull was held down with seperate fitted cardboard pieces. Check these pics out.
The flight deck was wrapped in multiple places with styrofoam sheets as well as individual plastic wrap
Check this out! A one-piece hull and not a warp to be found. The precision and quality are nothing short of stunning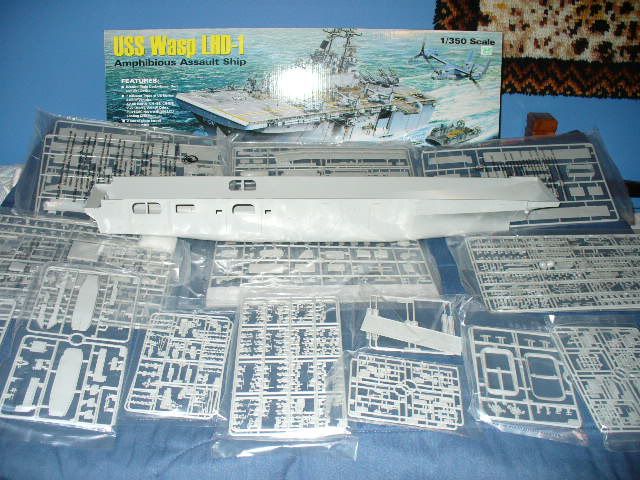 One look at this and I start thinking "maybe Victory ain't so complicated after all"
Aircraft are molded in clear, probably to leave the option open for clear canopies, which really don't scale well, so I'll be painting them instead
Railings and cranes are photoetch. Now THAT'S quality.
The detail level is amazing. Every nook and cranny of the ship has been modelled crisply. And both the maintainance deck and well deck are fully modelled, leaving me wondering if there is a way to make them visible (though I'm probably asking too much since I want to waterline the model). Seems a shame that so much detail would not be seen. I did come upon some led lighting so I may at least light the maintainance deck.
I do have a couple of minor gripes, and one complication. First, the painting guide, in my opinion, comes up short. Don't get me wrong, there is a two page
full color paint guide for all vehicles and the ship itself, but that's it. There is not a whole lot of guidance in the instructions themselves. Not that this really matters to me since I will be referring to the multitude of photos of the vessel that are available on the web. The painting guid for the vehicles is excellent, and the instructions does show what colors are needed and gives the stock numbers for a variety of paint brands, one of which is the one I use. My second gripe is a problem I've seen before. The plastic rotors for the various helicopters are just way too thick for my taste and this out-of-scale look can spoil the overall presentation. There is an after-market photoetch kit available that fixes this issue, but you would think that since the kit came with some etch already the manufacturer would have just made the rotors in etch. Now I've got to figure out how to get my wife to "allow" me to plop down the 70 bucks or so for the aftermarket etch.
The last thing is a minor complication that I will have to figure out how to adress. I want to display this as a waterline ship. While this in itself isn't too difficult, I want to display her as she launches an LCAC, which means the rear gate and part of the well deck will be flooded. Unless I can come up with another way, I will have to model the ocean with the ship in the mount and I will have to get the "water" into the back of vessel. And if I want to get it completely right the rear gate will have to be at least partially visible under the surface of the "water". This will be no small feat and I see a lot of experimentation in the future. Once I actually start on the water with the kit in it, there will be no turning back and only one shot to get it right.
But, that is an issue I won't face for several months. For now it's time to stock up on paints, dust off the airbrush and start coming up with a gameplan. I consider this to be not one kit, but one big kit with a bunch of smaller kits. There's the ship hull itself, the superstructure, Tanks, V22's, Landing craft, LCAC's, and 3 different other helicopters. Each of these is like a mini kit and will demand detailed attention.
This build is going to be a blast....