I've been banging my head against the wall trying to decide exactly how to display the Black Pearl. I'm well into rigging now and will have to start on the base soon. So I spent an evening on the web looking at various artwork. Since the Pearl is under full sail I wanted something that would do it justice. I pictured heavy seas, with the Pearl breaking through the top of a swell. This one is my favorite:
Or maybe just at the point of breaking through:
Or even just riding out heavy seas, to give the vision of endurance.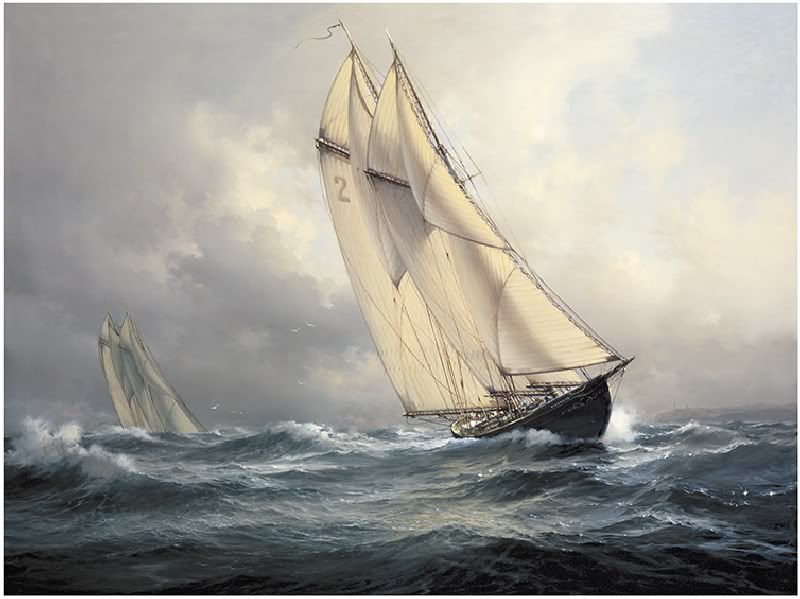 So once again I've given myself a lofty goal. The question is, how to get there? Maurice, your seascape article has proven invaluable. Thanks again for posting it. I think I've arrived at a sort of mix of different styles. I'm using 2" Styrofoam as the base. I'll be making a wood frame and bottom for it. I'll be carving out a section for the hull, as well as carving out depressions for lower areas of the "ocean", and using wire to secure the ship to the base. I'll then be using Celluclay to build up the swells, painting it all, then coating the entire area with clear silicone. Now, if I am to show the Pearl breaking through, I'm going to have to come up with a way to make ocean spray. I'm going to be experimenting with silicone and cotton, spreading out the cotton into the spray I want and then mixing it with the silicone. I may need to water down the silicone a bit. That's the plan anyway.
And please, if anyone has any suggestions on making ocean spray, or suggestions on how I could create my "vision", by all means let me know. This is all new to me so any help would be appreciated.
Grand experiments to come....
Phil